Sydney's property market has been the central focus of the real estate industry in recent years, particularly after median house prices soared into the seven figures earlier this year.
Interest rate cuts, a construction boom, rapid employment growth and renewed confidence in the State government were just some of the reasons behind Sydney's rapid and explosive growth in property values.
But most experts agree that we're now seeing a moderation in property price growth in the Harbour City.
For investors who haven't secured real estate in Sydney, it begs the question: "are there still good quality opportunities to invest in Sydney's suburbs?"
My answer is straightforward…
Sure the extraordinary house price growth Sydney has recorded over the last 5 years is clearly now receding, but price growth hasn't stopped.
Yes it's slowed down but it remains relatively strong, well ahead of all other capital cities.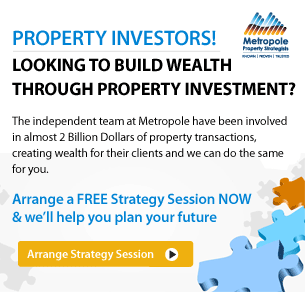 For all the talk of a slowdown, Sydney real estate is still chugging along nicely in some regions with buyers till vastly outnumbering sellers.
While some areas in the west have been seeing prices fall in the last few months, Sydney's eastern, northern and inner western suburbs have not seen any significant cooling in prices even with less buyers in the market.
So to help give you a better understanding of what's really going on I'm going to explore the nitty-gritty behind Sydney's market trends, the areas where long-term growth is still likely, and the impact of shifting demographics on the city's future performance.
This blog is a little longer than normal, so if you're looking for a particular element of the Sydney property market, use these links to skip down the page.
Fast Facts about the Sydney Property Market
1. SYDNEY PROPERTY MARKET PRICES
2. SYDNEY'S PROPERTY MARKET TRENDS
3. SYDNEY'S AVERAGE RENTAL YIELD
4. SYDNEY'S AVERAGE CAPITAL GROWTH
What's special about Sydney?
5. SYDNEY'S DEMOGRAPHICS
6. SYDNEY'S LAYOUT
7. SYDNEY'S INFRASTRUCTURE
8. SYDNEY'S ECONOMY
9. SYDNEY'S GROWTH
10. SYDNEY'S CULTURE
Which Sydney areas are worth investing in?
11. UPPER NORTH SHORE
12. LOWER NORTH SHORE
13. CITY AND EAST
14. INNER WEST
What advice do you have for new Sydney investors?
15. LOOK FOR SYDNEY'S BEST PROPERTIES IN THE INNER AND MIDDLE RING SUBURBS
16. BE MINDFUL OF A SYDNEY PROPERTY OVERSUPPLY
17. MAKE THE MOST OF SYDNEY PROPERTIES THROUGH NEGATIVE GEARING
18. HOW DO I CHOOSE A STRONG INVESTMENT PROPERTY IN SYDNEY?
How can I stay on top of current information?
19. GET NEWS, UPDATES AND ADVICE BY EMAIL
20. TAKE ADVANTAGE OF INVESTMENT ADVICE

Fast facts about the Sydney Property Market
1. Sydney Property Market Prices
But new data from Domain reveals a whopping 78 suburbs now boast a median house price of $2 million or more.
Five years ago the list was limited to just six suburbs.Sydney's $2 million club was once reserved for Vaucluse, Mosman and a handful of other harbour front enclaves.
But after a period of rampant house price growth in the past three months alone 26 suburbs have joined the ranks, including Kingsford and Darlinghurst, which didn't even have a $1 million median five years ago. Turramurra, Concord West and Haberfield also make the cut.
2. Sydney's Property Market Trends
Sydney's recent unprecedented market boom saw the city experience the highest rate of capital growth of any capital city over the last decade.
And Sydney has had the strongest capital growth over this property cycle.
This is in part due to the strong appetite for Sydney property by investors, who previously accounted for more than half of purchases, but this has slowed down a little due to tightened lending measures on investors under pressure from APRA that is hoping to slow property price growth.
Sydney currently has 3.0 months' of established housing supply available for sale across the city. Sydney has consistently seen low months of supply over recent years however; the figure is currently at its highest level for this time of year since 2012.
Just to make things clear…
The Sydney market is still growing, but while in the past it was speeding along in 5th gear, it's now slowed down to third or fourth gear.
But it's not in reverse!
And changing demographics is playing a big role in driving shifting market trends.
The big house on a big block is no longer a sure-fire strategy for success, as single-person homes and households without children are increasingly favouring living in medium density inner city and waterfront apartment properties.
Meanwhile, families are trending towards locations that offer effective transport infrastructure, with access to amenities and quality education.
Upgrades to major highways and new rail links may close the gap between suburbs that were previously closed off by poor infrastructure.
3. Sydney's Rental Yield
As usually happens at this stage of the property cycle, rents have been unable to keep pace with Sydney's rising house prices and as a consequence, overall yields have declined over the past few years as can be seen from the following chart from SQM Research.
Traditionally in Sydney, vacancy rates have been tight; hovering well below the level of 3% vacancies, which traditionally represents a balanced rental market.
However with investors – both local and foreign – currently dominating Sydney's market and a host of new development in the works, rental pressure are likely to ease in coming years.
4. Sydney's Average Capital Growth
As you can see from the following graphs, Sydney has delivered strong capital growth over the last property cycle, with overall dwelling prices (both houses and apartments) increasing by 16.7% in the past 12 months alone.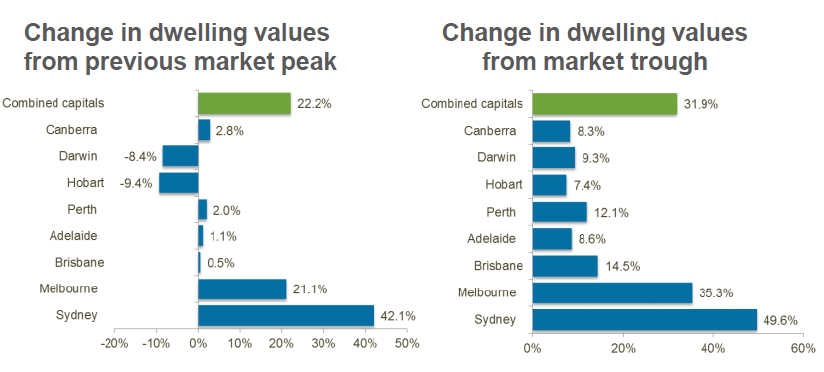 In 1993, the average house price in Sydney was $188,000. With a current media in excess of $1 million, this represents a five-fold value increase in just over 20 years.
However after the property boom of the late 1990's and early 2000's Sydney property values fell slightly then slumped between 2003 – 2008 so if you look at the annual rate of Sydney's capital growth over the last 10 years, it has been an unremarkable average of 5.9% per annum:
Sure there are signs that the Sydney property market is peaking, however there is still potential for property price growth in the inner and middle ring suburbs which tick all the boxes for strong capital gains in the long term.
You see…Sydney is comprised of dozens of smaller markets, each of which has their own drivers and supply/demand issues.
Overall Sydney is a city in gentrification, with the fingerprints of a younger demographic upping the desirability of the city lifestyle.

What's so special about Sydney?
5. Sydney's demographics
Sydney is Australia's most populous city, and is also the most populous city in Oceania.
After absorbing almost 85,000 new residents in 2014, the Greater Sydney region is predicted to hit a population of at least 5 million people by mid-2016.
Interestingly around half of its population were born overseas, making Sydney the world's most multicultural and ethnically diverse city, with over 250 spoken languages.
The median age of Sydney residents was 35 years, and households comprised an average of 2.7 members.
But drilling down deeper, within the CBD, the majority of dwellings are occupied by two adults without children, with the average age of residents reducing to 32.
With distinct areas of trendy, modern districts, Sydney has undergone incredible change since its early days as a settlement city.
Formerly gritty housing zones, originally built for labourers, are being revived and modernised, increasing their allure for those after a modern city lifestyle.
The Rocks is an excellent example of an area going through gentrification, with prime waterfront government housing transitioning to private dwellings.
These types of renewal projects are sure to bring new life – and growth.
Similarly gentrification if changing the face of Sydney's Inner West.
Looking back European settlement in Sydney began in 1788, and in 1800 Sydney had around 3,000 inhabitants.
It took time for its population to grow – in 1851 its population was only 39,000, compared with 77,000 in Melbourne.
Sydney overtook Melbourne as Australia's most populous city in the early twentieth century, and reached the million inhabitants milestone around 1925.
The opening of the Sydney Harbour Bridge helped pave the way for further urban development north of Sydney Harbour.
Post-war immigration and a baby boom helped the population reach two million by 1962.

6. Sydney's layout
One of the largest cities in the world, Greater Sydney extends from the coast at the east back to the foothills of the Blue Mountains, with a relatively compact CBD located around i
ts famous harbour.
South of the harbour are the desirable inner suburbs and densely populated beaches, including Bondi Beach.
North Sydney, connected to the CBD by the Sydney Harbour Bridge and tunnel, is home to a thriving business district and some of Sydney's most affluent suburbs, including the Upper and Lower North Shores.
According to the Real Estate Institute of New South Wales, the suburbs of Bellevue Hill, Vaucluse, Palm Beach, Dover Heights and Mosman were amongst the best selling Sydney suburbs for property investment in 2014 – not surprising, given they are all waterfront localities within the city's inner ring.
Plans are underway to build a motorway link to open up access between the pricey eastern suburbs and the western district, which makes up the majority of metropolitan Sydney.
Changes in positioning of major companies to outlying 'mini-cities' like Parramatta may see a shift in buyers heading to these cheaper housing areas and employment opportunities.

7. Sydney's infrastructure
With leading universities, premier shopping districts, iconic landmarks and lively urban flavour, it's clear why Sydney is considered one of Australia's most desirable cities to live in.
Built around the world's largest natural harbour, Sydney offers three efficient modes of transport in, around, and out of the city: road, rail and ferry.
Anyone who lives in Sydney knows all too well that driving more than an hour each way to and from work is the norm.
But this is likely to change with light rail playing an important part in the future of transport in Sydney providing quick transportation around the CBD.
Further construction is underway to connect outlying suburbs to existing rail lines, with plans to extend the light rail system to the Eastern suburbs.
Sydney Airport, the busiest in Australia, handles over 35 million passengers a year, is located only 8km from the city and connects directly to 100 destinations around the world.
Proximity to major highways and rail systems can either boost capital growth or hinder it, and all aspects must be taken into account when considering any property purchase.

8. Sydney's economy
Largely a manufacturing city in its heyday, Sydney has evolved into a metropolis of high-end, knowledge-based jobs in the business and financial services sector, earning itself the title of Asia-Pacific's economic hub.
Tourism and hospitality are its next leading employment industry.
Last year Sydney created 54,193 new jobs – almost a third of all the new jobs around the country.
Sydney's economy has been rising steadily since its change of government in 2011, boosted by high levels of spending on infrastructure; and this in turn is boosting business and consumer confidence.
Of course jobs creation and rising confidence also leads to population growth, which further fuels the property market.
Inner-city employees earn an average individual wage of $888 per week, compared with $619 for those working in the Greater Sydney area.
Sydney's eastern and northern suburbs reported an unemployment rate of between 2 and 2.4%, with Parramatta and Blacktown topping 8%.
With the recent boom in property prices, many buyers are finding themselves locked out of the property market, which may signal an increase in long-term rentals.
More than 55% of dwellings in the city are rentals, where occupants – primarily single professionals and couples without children – are willing to pay a premium to live in the heart of the city near to their work and all the action.

9. Sydney's growth
Since the 1970's, Sydney and Melbourne have been locked in a head-to-head race for highest population growth, with both cities adding 1.7 million new residents over 40 years.
Overall, Australia's growth rate is amongst the highest in the world, with the Australian Bureau of Statistics estimating that 66% of residents live in our capital cities.
The NSW government is planning extensive additions to its transport infrastructure to support future growth, with new motorway extensions providing an uninterrupted connection from Sydney's south to the north, and major road expansions on the plans to ease city congestions.
Outlying suburbs such as Parramatta and Liverpool are developing into regional cities, and with improved infrastructure in the works, there is likelihood we will see significant population growth in these areas further from the CBD.

10. Sydney's culture
Sydney is truly a global city, welcoming a broad range of ethnicities from all over the globe.
In fact, nearly half of the people who call Sydney home were born overseas, creating the most dynamic and culturally diverse metropolis in the world.
Each year Sydney celebrates its famous multiculturalism with the month-long Living in Harmony festival, which brings its residents together to celebrate and promote cross-cultural understanding.
Housing in the inner city is attractive to those who love the city life, with tenants looking for properties that include parking and excellent internet speeds.
With street noise generally a given in city living, smart tenants are looking for added features – like double-glazed windows – to minimise the city sounds.

Which Sydney areas are worth investing in?
11. Upper North Shore
Statistically one of Sydney's safest areas, with beautiful parks, large land sizes and an easy train commute to the city, the prestigious suburbs of the Upper North Shore have seen a stable increase in pricing over the years.
Incorporating Pymble, Turramurra, Wahroonga, Warrawee, Killara, Lindfield and Roseville, the Upper North sees a 'generational' cycle, with wealthy families moving in to gain access to esteemed private education and excellent public schools. The family moves on once children are out of school, thus allowing the next generations of young families to begin the cycle again.
This trend has maintained steady supply and demand, making the Upper North Shore area one to consider for stable growth, particularly as it sits in the middle ring of the CBD.
In August 2015, the Upper North topped the auction leaderboard with a median dwelling price of $1.4 million.

12. Lower North Shore
Located just over the Sydney Harbour Bridge and featuring a boon of waterfront properties overlooking the Sydney Harbour, Middle Harbour and Lane Cove River, the Lower North Shore is considered one of Sydney's most desirable places to live.
While the Upper North Shore attracts families due to the larger land lots and houses, the Lower North has a higher population density with a greater proportion of apartments and units, making it appealing to young professionals who work in the CBD.
The Lower North Shore consists of the suburbs of Mosman, Castle Cove, Cremorne, Neutral Bay, Kirribilli, Milsons Point, McMahons Point, Wollstonecraft, Greenwich, Longueville, Riverview, Linley Point, Lane Cove West, and Chatswood.
According to Domain Group data, the median auction price for a dwelling in the Lower North in August 2015 was $1.3 million, coming in third place behind the Upper North Shore and Northern Beaches.

13. City and East
Recently positioning itself at 6th on Sydney's best-performing auction rankings, with a median dwelling value of just over $1 million, the suburbs in East Sydney and the city centre are home to Australia's highest property earners, including Edgecliff, Rushcutters Bay, Darling Point and Point Piper.
Densely populated and with land at a premium, most properties are small terraced housing or units/apartments, with a higher proportion of renters in the Eastern suburbs than elsewhere in the city.
Suburbs in the city's inner ring such as Darlington, Chippendale and Darlinghurst have shown interesting changes in their demographic make-up recently, revealing a very high proportion of young, single residents who have populated the area for the social scene and city lifestyle.
Eastern Sydney is also highly desirable, as the home of the famous beachside suburbs of Bondi, Tamarama and Coogee.
While there is no train access to these coastal neighbourhoods, there are strong bus networks.

14. Inner West
There is no end of demand from home buyers and investors who want to live in Sydney's gentrifying inner Western suburbs.
In suburbs like Annandale, Croydon Park, Dulwich Hill, Enmore, Lewisham, Lilyfield, Marrkickville, and Newtown.
The suburbs within the region are characterised by medium to high-density housing and while they've been subject to gentrification, this process will continue for decades as the older workers and migrants make room for upwardly mobile high income earners.

What advice do you have for new Sydney investors?
15. Look for Sydney's best properties in the inner and middle ring suburbs
A review by the Australian Housing and Urban Research Institute has found that suburbs located within 5 to 15 km of the CBD consistently see a level of capital growth that outperforms suburbs.
These inner and middle ring suburbs continue to see long-term increases in value because:
Gentrification has changed the look and stigma of 'ugly duckling' areas into increasingly attractive places to live.
Sometimes, changes to an area, such as improved road and rail access or a change in demographic, can spur on the gentrification process in a neighbourhood, transforming it into an area that enjoys a steady increase in desirability.
While a rising tide lifts all ships and house prices have risen throughout Sydney, in general the outer and western suburbs have not had the same level of capital growth as Sydney's inner and middle ring suburbs.

16. Be mindful of a potential Sydney property oversupply
We've seen an oversupply of newly built apartments happen Sydney after the building boom of the late 1990's leading up to the Olympic Games and if we connect all the dots, the signs are there on the page again.
There's a tsunami of new apartments about to hit Sydney's property market.
Developers are presently cashing in on Sydney's enthusiastic market, with major housing developments on the plans or in construction.
I'm concerned about the oversupply of properties that is looming in certain locations of Sydney.
A case in point is Green Square where nearly 10,000 apartments will be built in one of Sydney's newest suburbs in the next four years to satisfy investor demand, which has already sent property prices in the city to the highest ever.
It will also add to the record 213,000 new home starts across the country amid slowing population and economic growth.
Green Square, about 3.5 kilometres south of the Sydney business district, is on course to be the densest suburb in the country.
I'd be very very careful and avoid buying:
off the plan properties
new properties in the large developments
established properties close to those locations where an oversupply new projects is looming.
17. Consider making the most of investing in Sydney properties through negative gearing
Sydney properties have exhibited strong capital growth over the long term and are likely to do so in the future.
But with their current low yields comes the challenge of negative gearing.
While this understandably concerns many first-time investors, I see it as a cost of doing business.
Here's a quick explanation of negative gearing:
A property is negatively geared when the costs of owning it – interest on the loan, bank charges, maintenance, repairs and depreciation – exceed the income it produces.
Since the costs of producing an income are generally deductible against the taxpayer's other income, property investors can effectively offset some of the interest expense against their wages.
This has made some argue that other, less fortunate, taxpayers help these property investors meet their costs.
Why would you buy a property that makes a loss?
Generally it's because property investors hope that their income losses will be more than offset by their capital gains when they eventually refinance or sell their property.
And in Australia capital gain is not taxed unless you sell your property, and then it is concessionally taxed; again evoking the argument that it favours wealthy landlords.
The truth is that negative gearing is more favourable for taxpayers who earn high incomes.
Imagine an investor had excess interest expenses of $10,000.
If they were on a marginal tax rate of 15 cents in the dollar they could use their loss and reduce their tax by $1,500.
But to a taxpayer in a higher tax bracket, one who pays 30 cents in the dollar tax, they could reduce their tax by $3,000.
So the benefits of negative gearing are greater the more you earn and the higher your tax rate.
While negative gearing has its critics, in my mind property investment is about capital growth of your assets rather than cash flow.
Cash flow will keep you in the game, but capital growth will get you out of the rat race.
In the long term well located properties in the inner and middle ring suburbs of Sydney will continue to be highly sought after and keep increasing in value creating wealth for their owners, be they home owenrs of real estate investor.

18. How I choose a strong investment property in Sydney.
If I accept that in the short term I'll be negatively geared, then I must ensure I buy an investment grade property that will outperform the market averages with regards to capital growth and to do this I use my 6 Stranded Strategic Approach.
I would only buy a property that would appeal to a wide range of owner occupiers. Not that I plan to sell my property, but because owner occupiers will buy similar properties pushing up local real estate values. This will be particularly important in the next few years as the percentage of investors in the market is likely to diminish.
I would buy a property below its intrinsic value – that's why I avoid new and off the plan properties which come at a premium price.
In an area that has a long history of strong capital growth and that will continue to outperform the averages because of the demographics in the area. This will be an area where more owner occupiers will want to live because of lifestyle choices and one where the locals will be prepared to, and can afford to, pay a premium price to live because they have higher disposable incomes. In general these are the more affluent inner and middle ring suburbs of our big capital cities
I would buy a property with a high land to asset ratio.
I would look for a property with a twist – something unique, or special, different or scarce about the property, and finally
I would buy a property where I can manufacture capital growth through refurbishment, renovations or redevelopment rather than waiting for the market to deliver me capital growth.
How can I stay on top of current information?
19. Get news, updates and advice by email
The easiest way to stay current with all the changes happening in our real estate markets is to receive the latest news to your inbox.
Currently, 90,000-plus Australians subscribe to my weekly newsletter, which delivers in-depth analysis, articles and commentary by a team of expert writers with a varied knowledge base in real estate, investment and finances – all essentials for successful property investing.
But if you have a voracious appetite, I recomend you subscribe to my daily market commentaries by clicking here.
Every day at least 7 commentaries, blogs and articles are published featuring leading experts in field of property investment, property investment finance, tax, economics aand personal finance.
It's a great way to keep up to day – subscribe now by clicking here.
20. Take advantage of independent, unbiased investment advice
If you're looking for independent advice, no one can help you quite like the independent property investment strategists at Metropole.
Remember the multi award winning team of property investment strategists at Metropole have no properties to sell, so their advice is unbiased.
Once again, the team at Metropole have been voted Australia's leading property advisors at the Investors Choice Awards.
Whether you are a beginner or a seasoned property investor, we would love to help you formulate an investment strategy or do a review of your existing portfolio, and help you take your property investment to the next level.
Please click here to organise a time for a chat. Or call us on 1300 20 30 30.
When you attend our offices in Melbourne, Sydney or Brisbane you will receive a free copy of my latest 2 x DVD program Building Wealth through Property Investment in the new Economy valued at $49.
Our experts have their finger on the pulse of the property market, and are specialists in their fields.
Contact us for a complimentary, obligation-free session with one of our property strategist's today.
from Property UpdateProperty Update http://propertyupdate.com.au/sydney-property-market/